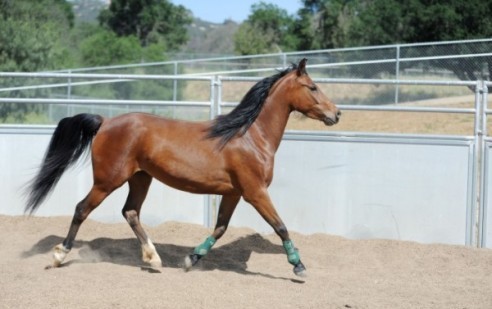 Breed: Arabian / Cross
Age: 4
Height: 14 hands
Gender: Mare
Weight: 775 lbs
Color: Bay
Electra is a very smart, sensible, and sweet mare. She loves attention and wants a job. She isn't very spooky, doesn't jig, or get too excited. She has cute and smooth gaits and picks up on new things quickly. She spent 4 months in training with KL Osbourne and has a nice foundation. Electra is ready to go in any direction!
Temperament

SCALE OF 1 TO 10; 1= CALM, 10 = HIGH SPIRITED
Electra is what we consider greenbroke and is ready to be finished under saddle. She knows the basics- walk, trot, canter, and yields to leg pressure. She goes in a snaffle and direct reins. She is forward, has a big stop, and is sensitive to aids.. She has primarily been ridden in the arena and our on-site trails. She has recently been going through our obstacles under saddle and is doing well!
Bathes
Ties and cross ties
Clips
Trailers
Stands for farrier and vet
Gets along well with other horses
Respectful ground manners
Stands for saddling and mounting
Lunges
Goes through obstacles including tarps, water, and bridges