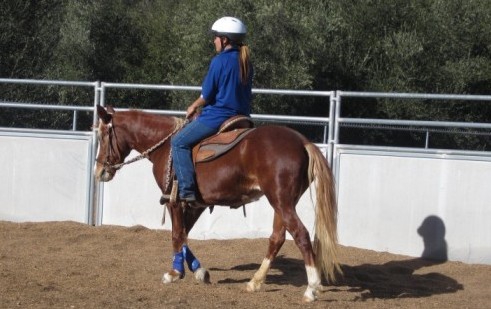 Breed: Mustang / Cross
Age: 8
Height: 13.3 hands
Gender: Mare
Weight: 800 lbs
Color: Chestnut
Dharma is a very smart pony, almost too smart for her own good. She is a fancy little mover and would be so cute in a hunter ring! She needs a strong leg to keep her moving in the arena and would prefer to just putz around instead. She loves the obstacles and goes through them with ease.
Temperament

SCALE OF 1 TO 10; 1= CALM, 10 = HIGH SPIRITED
Dharma is still considered green broke and is ready to be finished. She knows the basics under saddle – walk, trot, canter, and yields to leg pressure. She direct reins and goes in a snaffle. Dharma has primarily been ridden in the arena and our obstacle course. She is starting to go down the trail and doing wonderfully.
Bathes
Ties and cross ties
Clips
Trailers
Stands for farrier and vet
Respectful ground manners
Stands for saddling and mounting
Lunges
Goes through obstacles including tarps, water, and bridges