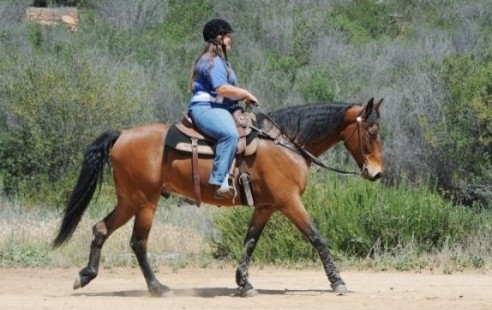 Breed: Tennessee Walking Horse
Age: 8
Height: 15.3 hands
Gender: Gelding
Weight: N/A
Color: Bay
Chance is a well started, goofy and fun gelding looking to hit the trails with at least an intermediate rider!
Temperament

SCALE OF 1 TO 10; 1= CALM, 10 = HIGH SPIRITED
Chance is an incredible horse. He's sound, has great conformation, and a personality to boot! He has such a fun, lovable puppy-dog personality and is a favorite at the ranch. He has been exposed to lots of stuff- tractors, heavy equipment, goats, cows, sheep, chickens, cowboy challenge obstacles, water crossing, and trails. He is best suited for an intermediate rider, as he is still young and occasionally spooks at new sites. He prefers the trail, but will do arena work. He's far beyond greenbroke, but not quite finished. Chance has great stamina and does best with regular work. He has great ground manners, ties, cross ties, clips, lunges, knows voice commands, stands to be mounted, and trailers like a dream. No bucking, biting, bolting, or rearing. No other vices.