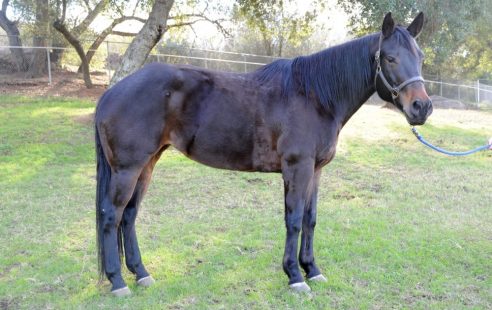 Breed: Quater House
Age: 10
Height: 15.1hh
Gender: Mare
Weight: 1100 lbs
Color: Seal Bay
Montana is big, beautiful and super sweet! She gets along with other horses and is easy to catch even in a large pasture. She is good for the farrier and vet, is UTD on everything and is an easy keeper. Clips/Ties/Bathes/Loads.
Montana has been riding western and rides in a snaffle. She direct reins and is beginning to neck rein, is soft in the face, good stop and back-up, moves off of leg, sidepasses, turns on the forehand and hindquarters. She has nice, comfortable gaits and is like riding a big, comfy couch! She is not spooky and goes through obstacles including tarps, gates, bridges, etc. She has had extensive exposure to heavy equipment, loud noises and farm animals.
Temperament

SCALE OF 1 TO 10; 1= CALM, 10 = HIGH SPIRITED
Broke to ride with extensive trail miles, goes english and wester. Solid and smooth walk, trot and canter. Side passes, spins, light off the bit and leg, flying changes, neck reins, crosees water and bridges. Mostly western riding, but started over fences. No buck, bolt, or rear.
Bathes
Ties and Cross ties
Clips
Trailers
Stands for farrier and vet
Gets along well with other horses
Respectful ground manners
Lunges
Goes through obstacles including tarps, water, and bridges in hand
Not spooky