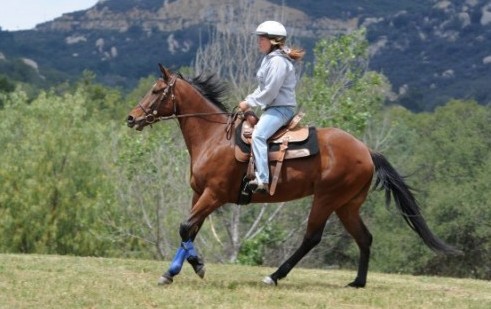 Breed: Quarter Horse / Cross
Age: 7
Height: 15.2 hands
Gender: Mare
Weight: N/A
Color: Bay
America is a greenbroke, kind, mare who is ready to go in any direction. She is forward, smart, and loves attention.
Temperament

SCALE OF 1 TO 10; 1= CALM, 10 = HIGH SPIRITED
America is a sweet, yet hot mare. She is greenbroke under saddle and has mostly trail miles. She knows her leads, moves off your leg, and has forward gaits. America requires at least a confident intermediate rider as she is still young and green. She is very kind, willing, and tries to please her rider. She possibly has some thoroughbred in her. She ties, cross ties, bathes, lunges, knows voice commands, and trailers. She doesn't have any vices. America could easily go English or western.