How Blue Apple Ranch Got Its Name
In our efforts to continue helping people, and to save as many horses as we can, Toby Wells Foundation set out on a focused mission, rooted in traditional values. With a steadfast aim to celebrate the positivity that surrounds horses and equestrian living, it was essential that the name for this initiative captured the hearts and minds of wider audiences. Now more than ever, through both physical resources and interactive outreach such as the Internet and social media, it is possible to cast a wider net, share our combined knowledge and extend our reach like never before. We wanted a name that represented our positive outlook, but that also resonated across a greater geography – from the grassy fields to the untapped virtual pasture online.
Blue is a term synonymous with blue sky, dreaming big, and being connected via technology and networking tools – like Bluetooth. An apple is a much loved and positive reward for the horse – as well as a universal symbol of knowledge and wisdom. The ranch is quite simply where the rubber meets the road. It all comes together here. Together, Blue Apple Ranch becomes a modern symbol for an old idea. Help one another, take care of those who are in need, and leave the world a better place than you found it in.
What We Do
Blue Apple Ranch encourages and supports responsible horse ownership. We are focused on bringing both people and horses together through innovative activities. At Blue Apple Ranch, we have lovingly committed to the lifelong care of 75 rescued equine residents that will live out the remainder of their lives with us. Currently, our sanctuary is at capacity but we will look forward to keeping you updated on future openings. To learn of options for your horse or for others that may be in need of assistance, please visit our Resources link for further information.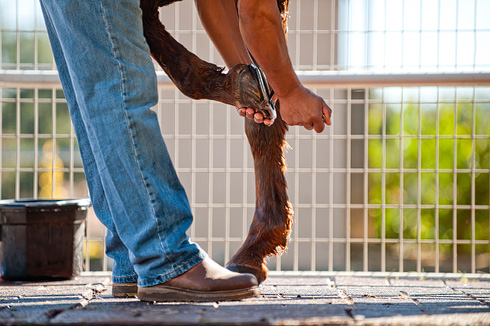 Who We Are
The Wells' are a third-generation, San Diego-based family. They have been actively involved in the San Diego for-profit business arena for a number of years and have, in retirement, ventured into the non-profit world to help make a difference in the lives of San Diego's underserved youth and also to help protect the welfare of animals. Following the passing of their only son, Toby, Lloyd & Lynn Wells, with their family, established the Toby Wells Foundation, which is a local non-profit organization offering resources to underserved children in an effort to help them reach their fullest potential, works to actively support programs that offer greater levels of independence for persons living with disabilities and is committed to assistance for orphaned animals. Through the Wells family's community work and love of both people and animals, the family created the Blue Apple Ranch in October of 2009 with the main purpose of providing support and lifelong care for at-risk horses while connecting them with people through innovative programs.